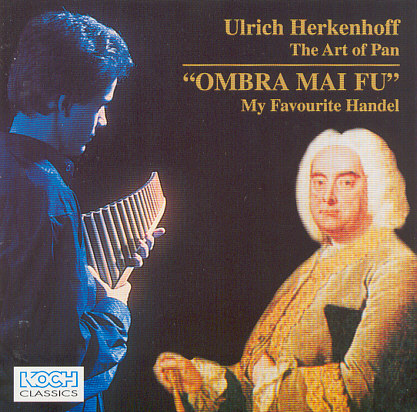 Euro 15 + Versandkosten
Hörbeispiele mp3 :
Geben Sie hier Ihre Bestellung auf :
Für eine Bestellung schreiben Sie bitte einfach eine eMail. Die von Ihnen bestellten Waren kommen dann auf günstigstem Wege mit der Post zu Ihnen. Eine Rechnung, zahlbar per Bank-Überweisung oder mit PayPal liegt bei. Bitte geben Sie bei Ihrer Bestellung Ihre komplette Adresse und die jeweiligen Bestellnummern an !
Für Ihre eMail klicken Sie einfach hier :

Falls Sie kein eMail-Programm installiert haben, dann mailen Sie einfach unter Verwendung dieser eMail-Adresse :
Ulrich.Herkenhoff@t-online.de
Selbstverständlich können Sie auch per Telefon bestellen :
Tel.: +49 (0)7121 5680110
Die Lieferung erfolgt auf Rechnung und ist bei NEUKUNDEN nur noch bei geringen Beträgen bis 30 Euro möglich. Bei höheren Beträgen werde ich um Vorauskasse bitten, was im Einzelfall
per eMail besprochen werden wird.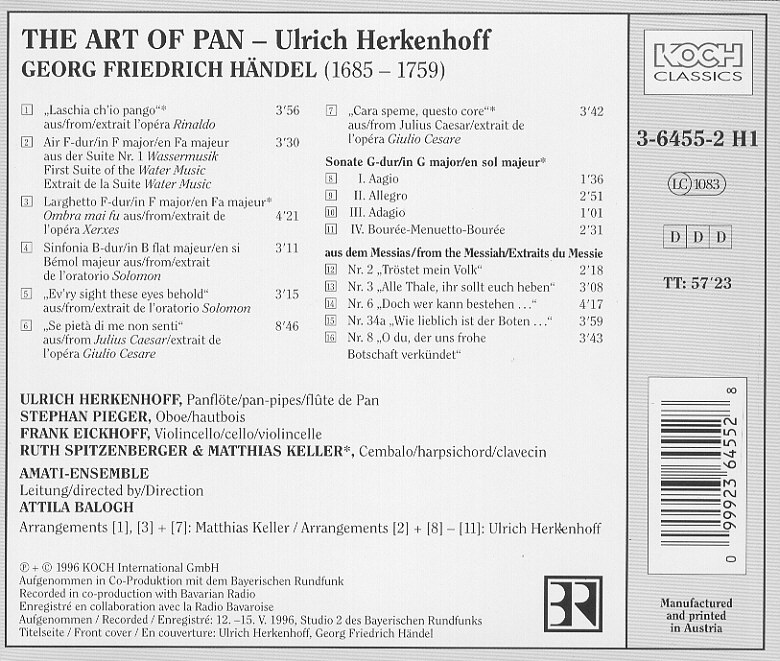 Rezensionen

Deutschland-Radio :
... schenkt Herkenhoff hier eine Wärme, einen Farbenreichtum und die enorme Klangsinnlichkeit, wie man sie sonst nur von historischen Blasinstrumenten kennt. Und man kann nur staunen, wie leicht seine Flöte anspricht, wie mühelos er den Röhren virtuoses Passagenwerk entlockt.
Göttinger Musikblatt :
... Die Gesangsparts, quasi die hohe Schule der Phrasierung, liegen der Panflöte hervorragend.

www.classical.net :
That's right: this is an hour of Handel's music, in arrangements for pan-pipes and chamber orchestra. Don't get your nose out of joint: the idea may be a little hard to swallow, but it works beautifully. Herkenhoff's pan-pipes (man-made, of course) have a timbre not dissimilar to that of the soprano recorder, although the former instrument is more plangent. The pan-pipes don't share the recorder's intrinsic agility. Still, Herkenhoff nevertheless is capable of remarkable things. One of the signs of a successful arrangement is that it doesn't make you miss the original. Herkenhoff succeeds on this count. Another sign is that a reveals a new facet of the music. This sign is harder to evaluate than the first, but I feel that Herkenhoff has succeeded here as well. This is Handel with the smell of the wild mountains in his nose - out of the palace and onto the mountainside, tending his sheep, just as he wrote in Messiah.
Herkenhoff is not the first pan-piper to do a Baroque album. The artist named Syrinx has done some charming collections of music by Bach and Vivaldi. This is the first pan-pipe CD I've seen that is devoted to a single composer, however. Lest anyone questions Herkenhoff's credentials, he also studied classical flute, and he has commissioned works for pan-pipe by contemporary composers. He studied with that most famous of pan-pipers, Gheorghe Zamfir, and he has worked with Marcel Cellier, the man who brought Le Mystère des voix Bulgares to the West. Herkenhoff is a musician who is comfortable pollinating classical music with folk elements, and vice versa.
Performances by Herkenhoff and the Amati Ensemble are in a modern style, but not unfaithful to Handel's spirit. The recording, made with the assistance of Bavarian Radio, is a delight to the ears. This may be one of the most unusual CDs I've reviewed all year, but it's also one of the least pretentious and most sensually pleasing.